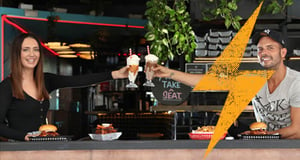 Good news! You're finally able to open the dining areas your restaurant. With six to eight weeks of slow to no traffic, you and the team are raring to go! And yet, you're anxious. The game has changed. Restaurants, bars and entertainment venues are the front lines of safety in much the same way as health care providers. Face it, before COVID-19 the restaurant industry focused on safety as a matter of good business, but to nowhere near the extent going forward. This goes beyond employees washing their hands and basic food service safety, that's table stakes. With new restrictions comes new things to consider, you must think differently. Here are five ideas you can implement to serve safely while making guests feel safe and welcome (and still grow sales).
TIP 1: Disposable menus

Time to hit the print button on fewer pictures and easier printing solutions (think take-out menus). If your menu is too long, consider dialing it back and spending your excess words on descriptions for the "plow horse" (most desirable, value price) and "star" items (most desirable, premium price) in your menu engineering matrix. Ditch the dogs all together (for now) but double down on coaching your servers on how to explain the specials of off-menu items. PS There is no better marketing than a confident, educated, friendly server.

TIP 2: Rethink table POP
For the foreseeable future, guests will learn new behavior and act on different metrics regarding restaurant loyalty. Stage one of COVID restrictions say, "Do not leave condiments, silverware, flatware, glassware, or other traditional tabletop items on an unoccupied table." Odds are that this standard will remain intact until we find a vaccine. This includes typical tabletop point of purchase (POP) marketing.
Heavily leaned upon as a means of enticing the guest to buy a fancy drink or featured item, this sales enablement tool is a mainstay on most casual dining tables. Consider more of a "leave behind" that is less expensive and also disposable. Invest in your TVs as marketing tools since there's clearly no sports at the moment. Partner with your creative team to make fun, sizzle reels highlighting activities guests love to do while eating one of your delicious items or drinking a tasty beverage.
TIP 3: Silverware bags
Never a better time to consider key messaging on a disposable silverware bag. Of course, it's critical to make sure the tableware is spotless and sterilized GOING INTO THE BAG. This can be achieved by suiting up an employee or two per shift in PPE and maniacally cleaning and polishing all table ware with a food safe sanitizer. Then, place the table ware in a silverware sleeve. This practice takes away the variety of different folks most flatware touches in a typical day.
The bags themselves are inexpensive (especially considering the added safety bang for the buck) but the printing can be expensive or create long lead times. Instead, invest in a couple of ink stamps with your logo and safety message and "voila" marketing meets safety.
"Social distancing is better with tacos and tequila."
TIP 4: To-go & exterior door signs
Things are changing fast, but you can do better than that 8.5X11 sheet of paper with "Order Here" or "Practice Social Distancing" typed in 70 font. Be a pro. This is your opportunity to communicate your brand. Change the message and change the game. Consider your three highest priorities (now):
Safety
Reputation
Sales
Put your best foot forward by showcasing delicious items in the background while crafting fun messages like "Social distancing is better with tacos and tequila." Or "something else catchy and brand appropriate here."
TIP 5: Section dividers
With capacity management comes that dreaded feeling of emptiness. Restaurants thrive on creating a festive, fun atmosphere. Block off excess space with a simple room divider. Create your marketing and safety messages and post them onto the panels. "We care about your safety and your appetite." with logo & photos of food/drink.
You've got this.
During this evolution of a new normal, think strategically about how to maximize sales while managing safety. You want your guests to leave saying, "Yes! Some normalcy has returned to my life. The food was amazing and I feel like they're doing everything possible to keep me safe."
Get educated, challenge every element of safety in your establishment and think differently. There's never been a better time to show your guests how much you appreciate them.
We've got ideas and can help. Let's get to work.