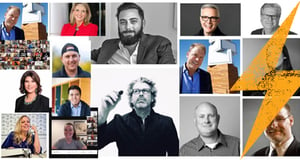 The Coronavirus (COVID-19) pandemic and the subsequent "Shelter in Place" mandate has changed everything. Whether we are six feet, six blocks or six miles apart, the need for communication in our current world is imperative for keeping our businesses, and our lives, moving forward.
At the outbreak of the pandemic, leaders at MindHandle, The Shop, Launch, Spire Agency, and The Marketing Arm were in close contact with one another to communicate how they were handling the situation with employees and clients.
Since 2015, AdChat DFW has been a robust, online news source and promotional platform for the agency, marketing, production, film and talent communities across the Metroplex. AdChat DFW recently interviewed MindHandle on what it was it was doing to connect with employees, clients and even causes during these challenging times.
"We're taking the expected measures to keep everyone safe and healthy, like holding screenshares and conference calls instead of in-person meetings," said Eric Harris, CEO of MindHandle. "But we're also taking the time we would normally be commuting and applying it to big ideas for our clients to not only survive, but to thrive in this unfamiliar territory."
One of those ideas was in support of the agency's restaurant clients like Chili's, On The Border, Raising Cane's and Fish City Grill. The campaign #TeamUp4Takeout was created to encourage North Texans to order takeout from their favorite local restaurants at least four times per week.
"People don't just love the food, but also the people at their favorite restaurants, says Eric Harris, CEO Of MindHandle. "The Texas Restaurant Association says up to 500,000 restaurant jobs may be lost in our state, so we're using our storytelling talents to highlight bartenders, servers, hosts, buses and cooks in North Texas who rely on those tips to survive."
The pandemic has shifted the mindset and M.O. for practically every business in America. In an industry that's all about communication, MindHandle has found many positive and productive ways to stay in touch with the clients and coworkers we cherish. And, perhaps, come out even better than before.
See the full story on AdChat DFW, click here.