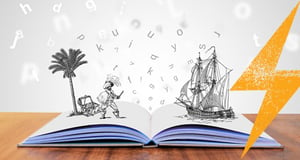 While storytelling is MindHandle's gift to the world, we're aware it's also somewhat of a buzzword in marketing, as the entire org chart learns to embrace humankind's most enduring form of communications.

We witness and contribute to thousands of versions of stories generated and shared every year, and we're privy to many anecdotes as well. An anecdote can be an incredibly useful tool, but marketers must be aware of the differences between them and when to employ one or the other.
First Things First: What is an Anecdote and What is a Story?
An anecdote is a simple retelling of something that happened. A story paints a narrative journey with a beginning, middle and end. Stories contain elements like conflict, rising tension and resolution, all woven together by a villain and hero that an audience can understand, relate to and ultimately root for. Storytelling is a craft that incorporates a number of elements to captivate and connect the storyteller and audience beyond a superficial exchange of static data and information. And anecdotes can be told by... well... Anyone. Anywhere. Anytime.
Here's an example of an anecdote:
My parents forced me to go to college, but I wasn't really interested in anything, so I just took a few random classes to keep up appearances and make them happy, while couch surfing with friends trying to have some fun. Eventually my buddy and I started a little business in a garage, and it took off and I made a lot of money and was in charge of the company, but then I was forced out and fired from the company I started. I was devastated, but eventually I started a few more companies, made more money, and was able to take back my original company, which is now more successful than ever.
You may or may not recognize the anecdote as the origin of Apple. While the anecdote does technically outline what happened, it doesn't do much to bring the legend to life, and it doesn't really sound all that interesting or remarkable when taken at face value. In his now iconic 2005 Stanford commencement address, Steve Jobs began the speech by taking graduates on a journey through time to his creative beginnings as an aimless student who happened to randomly find himself taking a calligraphy class, which would become the underpinning for his famous aesthetic and dedication to design purity.

He could have recited Apple's yearly revenue. He could have recapped a list of product features and benefits. But instead, he brought the audience along for a ride through the company's origin story, and the speech resounded around the world and received millions of views online, taking it well beyond the Stanford campus.
Anecdotes Advance Storylines
Anecdotes in marketing plans can come in many shapes and sizes, but generally they take the form of tactical reasons to believe in the brand's story. For example, Fish City Grill's brand story is a tale of fam-millennials escaping the monotonous grind to pursue a coastal state of mind. In this vacation-like mindset, they can truly relax and be themselves, as though they were on a visit to the coast. Anecdotes like the Oysterfest promotion (which encourages guests "The world is your oyster. Find your pearl.") and Happy Hour (Because "You only live once. Might as well be happy.") align underneath that idea, reinforcing the larger brand story.
To launch Main Event's new Birthday Party program, MindHandle developed a brand storyline that spoke to parents of birthday kids. These moms and dads, tired of being mired in the details of party hosting, and of being shamed into preparing epically tedious Pinterest-board-looking spreads, could leave everything to Main Event so the parents could "Be Birthday Present." This is an example of a story.
The anecdotes that support this storyline? There are several, but what they have in common is that critical, sometimes-implied-sometimes-very-much-spoken "so you can":
We've created new packages, like a VR Gamer Experience and Pancakes and Play,so you can

Be Birthday Present.
We've created an all-new website, which allows you to book your activities, choose your food, send invitations and more, right from your phoneso you can

Be Birthday Present.
We've introduced a new mini version of our crowd-pleasing Super Fun Sundae, with individual portions for all your guests. Now you don't have to worry about a cake,so you can

Be Birthday Present.
The Benefits of Storytelling in Marketing Communications:
Stories engage your target audience and take them on journeys in which they become invested in the outcome (actually playing the role of hero themselves). The best stories foster an emotional connection, building awareness and loyalty for brands in a way that merely sharing anecdotes does not.

The strongest brands become stronger by weaving anecdotes like fibers into engaging storylines in which the audience plays the role of the hero. There's a clear villain or force of opposition, and there's a winner.
Does your brand tell a story of a victorious consumer or employee? Or is it mired in anecdotes – disparate tactics begging for a higher purpose?