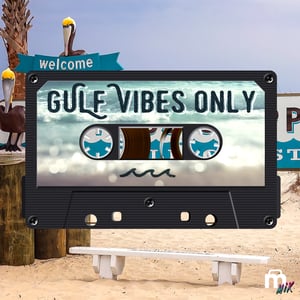 This week's MindHandle Mix is inspired by one of our favorite restaurants, Fish City Grill. Last year, we got to deep dive into the Fish City Grill experience to rebrand the restaurant chain inside and out (and racked up a few ADDYs along the way including "Best Restaurant Marketing.") They've been our client and preferred source of oyster nachos ever since.
We love Fish City Grill because their brand is modern and friendly, with a dash of irreverence, and a lotta love for darn-tasty, fresh fish. So if you're daydreaming of a coastal vacation like we are right now, press play on this mix, and drift away.
Pairs well with: Watermelon margaritas, floppy hats, poolside lounging, light beach-reads, card games with the fam, open roads and open waters
Perfect for: Lifting spirits, curing stir-craziness, happy times with people you love
Best listened to: Outdoors, full-blast, in full-sun, with a beach, pool, or sprinkler nearby
Best sang into a hairbrush: "If I Had a Boat" – Lyle Lovett
Best played at full blast: "Crocodile Rock" – Elton John
Song your parents also boogied to on their beach vacations: "Ya Ya" by Lee Dorsey
Song most likely to play during a montage of a water-balloon fight: "High-School Lover" – Cayucas
Song most likely to play as you drift into a serene sunset after a bitter-sweet, transformative personal journey, just before the credits: "Lady Luck" - Richard Swift
Song most likely to play when he saves you the last oyster nacho, even though he must want it for himself – and, oh my god – is this love? This is love. : "Butterflies" - Kacey Musgraves
Song most likely to play when you reel in what you anticipate will be a prize-winning tuna, which turns out to be an old boot. Also appropriate for when you run out of beer: "S.O.B." - Nathaniel Rateliff & The Night Sweats
Other brands that would dig this playlist: RayBan, SunBum, Landshark Lager, Yeti
Follow Mindhandle on Spotify and
keep your eyes peeled for our next MindHandle Mix Vol. 16, debuting soon.