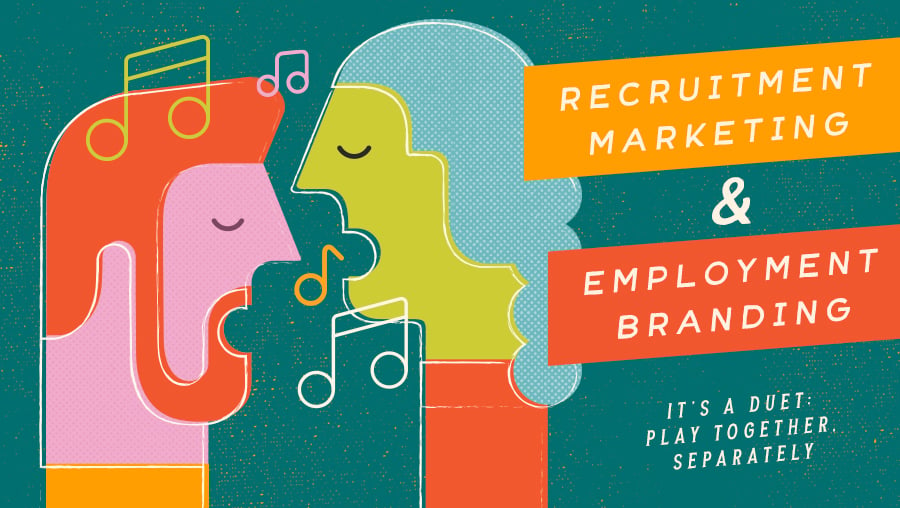 Recruitment marketing and employment branding are terms often used interchangeably, but they are different disciplines and should be treated that way. When orchestrating a talent communications strategy, these two instruments blend to create unforgettable harmonies. But they rarely play the same part. Each is capable of carrying the tune, and in this article we'll explore their differences, their similarities and what you should expect from an employment brand agency working alongside you.
The Differences are All About the Groove: Recruiting or Retention?
When we explore how these two disciplines are different, we look first at the type of goals they support.
Recruitment marketing begins and ends with getting great talent to join an organization, so this work acts like radio-friendly pop songs. This work is accessible to everyone, but is targeted to those outside the organization. Its goal is to get you to "buy tickets to the concert," or apply for a job.
Employment branding, on the other hand, is more "album oriented." It's about a company's identity and perception as an employer, and therefore encompasses those "hit singles" as well as the "deeper cuts." Imagine raving fans of an artist, buying albums on vinyl, even though they have access to stream an entire catalog of favorites. The goal of this work is similar – to build, change and reinforce mass perceptions about an organization – so the here-today-gone-tomorrow, pop sensibility doesn't apply. In this work, we're also reaching those who have already chosen to work for our teams, which means internal communications play a part as well.
We can boil these differences down into three categories: focus, timeframe and audience.
1. The 1st Difference: Focus
Since recruitment marketing is all about attracting candidates in the talent pool, talent acquisition deploys specific tactics like job ads, social media campaigns, and career fairs. These are designed to make the organization stand out and ultimately lead to applications.
Employment branding, on the other hand, is about showcasing the company's personality, values and culture to create a connection with both candidates and current employees. Employment branding is broader in scope than recruitment marketing because there are multiple audience types involved.
2. The 2nd Difference: Timeframe
Recruitment marketing generally comprises a blend of long-term with more immediate and tactical efforts, targeting specific job openings among the active, job-seeking audience. Imagine this audience surfing terrestrial radio or playing curated playlists, listening for something that captures their attention. Activity in this space must unfold quickly, as attention spans are short and most jobs need to be filled with urgency.
Employment branding takes a longer-term perspective. It's a strategic effort to build the company's reputation and become the go-to place for talent over time. On a long enough horizon, every employer has opportunities to create a best-in-class employee experience. Yet many efforts to build a brand risk distraction by the need to hire quickly.
3. The 3rd Difference: Audience
Active job seekers who are looking for career opportunities are likely to interact with recruitment marketing tactics. This also greatly impacts the channel in which the audience interacts with the work. Recruitment marketing channels include job boards, LinkedIn and other social platforms, career sites, posters at physical locations and other media specifically targeted to candidates.
The broader audience of passive (not actively looking) and active candidates, however, will interact with employment branding efforts. This audience also includes an organization's current employees, who benefit from reminders why they made the right choice joining the team in the first place, and how to experience success at the company. Employment branding initiatives reach audiences in the typical paid recruiting channels, but also via intranets, internal email campaigns, and other owned channels.
Recruitment Marketing and Employment Branding are Two Similar Parts of a Whole Talent Strategy
Even with all those differences, recruitment marketing and employment branding still share many similarities. Think of them as folk and country, or trance and trap. They overlap considerably, yet each is its own discipline. Their commonalities include talent attraction, brand storytelling and employee experience.
1. The 1st Similarity: Talent Attraction
Both recruitment marketing and employment branding share a stage when it comes to attracting and acquiring talent. Without one, the other won't succeed. If a brand has a great reputation as an employer, applicant conversion will improve. If an organization attracts the right talent, its reputation will improve. Unfortunately, the inverse is also true. One of the worst things for recruitment marketing is to starve the employment brand, and vice-versa.
2. The 2nd Similarity: Brand Storytelling
If "The Heart of Rock and Roll is the Beat" (thanks, Huey Lewis), the heart of both recruitment marketing and employment branding is the story. Both disciplines benefit from an emotional core, a beat to which the talent – whether current or future – can tap their toes.
3. The 3rd Similarity: Employee Experience
The initial contact. The application process. The offer. The orientation. The onboarding. The career pathing. The learning and development. The beat goes on. Two employees rarely share the same journey through an organization, so it's important that, when writing this sheet music, we're keeping our individual performers in mind and designing experiences that are personal, high-touch, and relevant. This requires overlap between the work of employment branding and recruitment marketing. After all, this relationship is how an audience member becomes a candidate, then an employee, then an ambassador, so it's critical to collaborate when designing these experiences.
The Role of an Employee Communications Agency: Imagine a Studio Producer
Employment branding and recruitment marketing collide in a delightful jam session. Talented professionals from each discipline meet, and the result is far more pleasant than any could have created individually. However, without a voice to guide the work, and to get the most out of these musicians, the studio time could be unproductive.
Imagine an agency acting in the role of producer: Keeping the recording on track. Always keeping the intended audience in mind throughout the process. Listening to the quality of the communications throughout the talent strategy. Uncovering opportunities to improve it. Negotiating on behalf of both disciplines, always with an ear toward what's best for the overall business.
At MindHandle, we commonly find ourselves "behind the board," blending the work of employment branding and recruitment marketing together in a harmonious mix. This may include outputs like:
Employer Value Proposition (EVP)
A strong EVP, born from the soulful storytelling of an employment brand, sets the tone for recruitment marketing's communication strategy. For example, read this story about distilling and developing Hewlett Packard Enterprise's global EVP.
Employment Brand Activation Playbooks
When aligned on the campaign concept, we document the rules and tools so both teams can bring it to life in their own channels. Just like we did with Frost.
Recruitment Campaigns
When the employment brand inspires the recruitment marketing work, we can create emotionally stirring creative campaigns to attract candidates, like this little ditty with Raising Cane's.
The bass (bottom) line: Recruitment marketing is one of the activities in an employment brand strategy. Employment branding is holistic, expansive, and inclusive of myriad tactics.
Get in Tune with MindHandle
When you assemble your talent communications orchestra, consider the tune you want to conduct. What does your audience want to hear? Now it's time to grab the baton, step up to the rostrum, raise your hands… And play.
Learn more about how we can help you with employer branding.