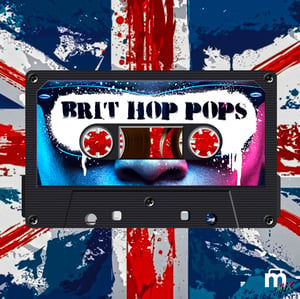 Our creative director, Carlos Cortiñas, brought together our latest MindHandle Mix Vol. 9: Brit Hop Pops—and it's bloody brilliant. This mix follows the progression of underground pop across the pond, starting in the early 80s. It's trippy, energizing, and anything but mainstream. Just trust us. Grab a pint and give it a listen with your mates!
Here's our interview with Carlos himself.
Carlos, how would you describe this mix?
An eclectic mix of British Hip Hop tunes ranging from the early 80s, to more recent jams. Great music to get you past the lull on a Tuesday at 3PM, or give you a trip-hop jolt into the weekend.
What inspired you to choose the theme?
This music had—and still has— a special place in my soul, due to its obscurity. At the time when these songs came out, they encapsulated my desire to not accept everything that culture had to dish out. Today, it highlights my passion for heading down roads less traveled— especially when it comes to music, art, and film.
What is your favorite song on this mix?
Unkle's "The Knock (Drums of Death Part 2)" is easily one of my favs due to its rare mix of talent on one track. (Yup, that's Mike D from the Beastie Boys.)
If this mix was a brand, which brand would it be and why?
Adidas – Impossible is Nothing. In a time where US Hip Hop (Nike), seemed to dominate the landscape, the Brits (Adidas) were coming up with their own unique, disruptive style that pressed upon the limits of the status quo.
What's the secret to creating a great mix tape?
In this case, I would have to say the chronological order of the material. There's no doubt that from beginning to end, you'll get a good sense of how Brit Hop evolved from rapping in the UK underground, to sold out crowds at Wembley.
A more commonly known secret is to start and end with a bang (or "pop", in this case).
Do any of the songs bring up a specific memory?
When I heard Shara Nelson belt out "Unfinished Sympathy" by Massive Attack for the first time, it made me think that reincarnation was possible. In my opinion, her dynamic, soulful, and euphonious voice resembled that of Aretha Franklin.
This entire mix tape reminds me of one of my great friendships. Back in advertising school at Portfolio Center in Atlanta, I was fortunate enough to cross paths with a highly talented writer with an uncanny ability to bust out legendary mix tapes. There's no doubt that when you received a mix tape from Jack, you were receiving more than just a list of songs - you were receiving a meticulously-crafted and calculated work of art. Making a great mixtape is a subtle art form, and takes a certain amount of skill. Jack not only showed me how to make one kick-ass mix tape, he showed me the intricacies of how to maintain, and develop long-lasting friendships.
Thank you, Carlos! Your playlist is lovely.
If you found this mix to be lovely, stay tuned for MindHandle Mix Vol. 10: Dancin' By Myself. And please follow Mindhandle on Spotify.