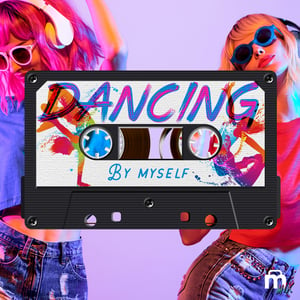 MindHandle Mixes were born out an office tradition nicknamed "Funky Fridays". Every Friday, we wrap up the week by boggieing down to groovy tunes. During April 2020, we were all working remotely to help combat the Coronavirus pandemic—and found ourselves missing the comraderie and good vibes of Funky Friday.
Our VP of Strategy, Cherie Neyrey created her playlist, MindHandle Mix Vol. 10: Dancing By Myself, to help lift our spirits. You'll find tracks from Jackson 5 to Paul Simon that sound like pure sunshine. Here's our interview with Cherie.
Cherie, how would you describe your mix?
This is every song that makes me want dance like no one is watching. My shoulders start moving and next thing I know, I'm bustin' a move. It's feel-good, fun-loving and watch out – you may start singing too! Go ahead, it's your prerogative!
What inspired you to choose the theme?
The month of April was pretty gloomy. Lots of crazy weather, nothing to do outside, and, oh yeah, a pandemic. I picked these songs because, when I hear them on the radio, I want to just jump up and boogie, no matter who's watching. They fill my soul with joy and sunshine! Thought I'd share a little sunshine with my friends.
Which song is your favorite?
Wow! They're all my favorite, but if I have to pick "I'm On My Way" by The Proclaimers. It's encourages me to change my state of mind. If I'm feeling blue, all I have to do is turn that corner.
If this mix was a brand, which brand would it be and why?
Coca-Cola. Their tagline is "Open Happiness"! Timeless and optimistic.
What's the secret to creating a great dance mix?
The songs have to give you a lift. Life is not always pretty, but if we take a minute and put ourselves in the right frame of mind, we can find something to smile about. I looked for songs that brought up fun memories.
Do any of the songs bring up a specific memory?
"Sweet Caroline" by Neil Diamond. It's such a sneaky song. It starts out like a peppy little love song and then it turns, and you're shouting the lyrics. This song reminds me of New Year's Eve in New Orleans, a crowd of strangers singing at the top of their lungs, everyone smiling and having fun.
We're smiling from ear to ear, Cherie! Thank you for your mix.
Follow Mindhandle on Spotify and stay tuned for MindHandle Mixtape Vol. 11, available next Friday.