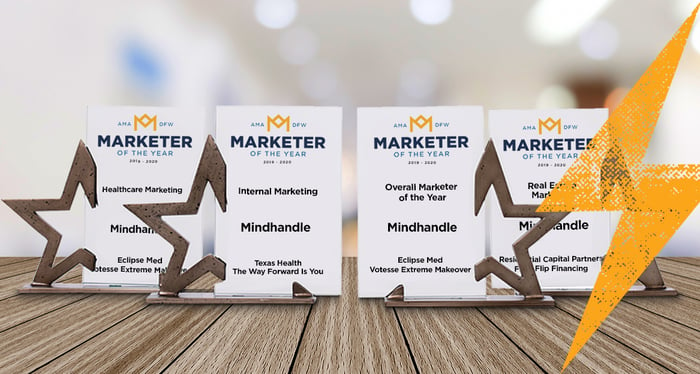 At MindHandle, we consider ourselves grateful for the opportunity to tell our clients' magnetic stories. Doing the work is rewarding in itself, as we endeavor to solve problems and improve their situations every day. But we're also so humbled by the recognition we've received from the American Marketing Association's DFW Chapter. We were awarded in each of the three categories in which we were finalists – internal communications, healthcare and real estate – and our performance in those categories also earned us the coveted 2020 Marketer of the Year award.
Here's a look into each award-winning campaign:
With Texas Health Resources, we told a story of incredible change inside one of North Texas' largest employers.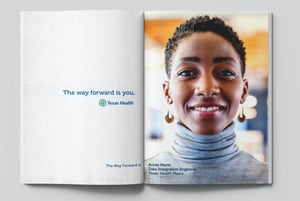 To create this campaign took over two years, several workshops, presentation training and more. Even being referred to as "c-suite whisperers." Eventually, the combination of strategic and creative insight led to the idea that helped employees evaluate their role in the company's transformation: "The Way Forward is You."
For more, please read the

case story.
We revitalized an aesthetics brand, going much deeper than face value.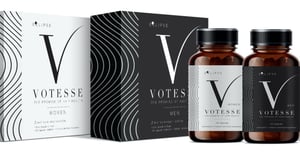 In 2019, Eclipse MedCorp launched a combination hair therapy product that would change everything. Well… It would have, but unfortunately the launch fell flat due to some less-than desirable branding. MindHandle, never one to back down from a challenge, stepped in to rescue the brand, renaming it Votesse, designing super-sexy packaging and ad elements, and helping providers and patients alike understand the magnetic story, centered around the idea "The Promise of Healthy Hair." The brand went from "here it is" to "here's what's in it for you."
We made it easier for a hard money lender.

When Residential Capital Partners and MindHandle began working together in 2019, their customers didn't know the difference between their loans and their competitors', generally considering all lenders the same. If all lenders are created equal, then ResCap knew they'd keep falling into the murky middle of morally questionable institutions. So armed with a strong idea –­ "All Cash. No Catch." – and a magnetic story of several personas rising above the unscrupulous choices available, we filled ResCap's funnel from the top and cleared the blockage from the bottom. Now the loans are able to flow successfully from lender to flipper, and we're continuing to widen the passages.
To say we're honored would be an understatement. Humbled, proud and thrilled for the future alongside these clients is more like it.
The American Marketing Association has 30,000 members from 76 professional chapters and 250 collegiate chapters across the US. The AMA was formed in 1937 with the merge of two preceding organizations, the National Association of Marketing Teachers and the American Marketing Society. The mission of the Dallas-Fort Worth Chapter is to educate, support, and enhance the performance of its members and marketing professionals in the Dallas-Fort Worth metroplex.
Ready to discover your brand's magnetic powers?
Let's talk.