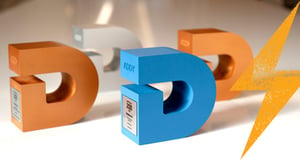 Ahhh…don't you just love that "new award smell? The next time you visit our office, you might notice some new hardware: four freshly-minted 2020 ADDY Awards from the 58th Annual AAF Dallas American Advertising Awards.
This year, the agency received two awards for sales and promotion, one for package design, and the Dallas Foodie Award for "best overall food advertising." Even better, these four awards spanned three different MindHandle clients.
AAF Dallas was founded in 1908 and is the local chapter of the American Advertising Federation - the "unifying voice" of the 40,000 professionals in our nation's advertising industry. The "Dallas ADDYs" are the first step in a three-tiered competition that culminates into the national American Advertising Awards this summer. It is our industry's largest creative competition with over 35,000 professional and student entries each year.
These awards validate what we already knew to be true: that we're delivering the high quality of work that our clients deserve. And much of that credit goes to our partners and clients. You're in the trenches with us every day, in a world where there's an awful lot of noise, fighting for ideas to take hold.
From our team to yours, thank you. Because great work comes from great partnerships.