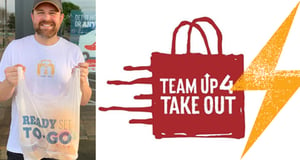 Texas restaurants generated $70.6 billion in sales last year, and those same establishments employed 10% of the state's population. Our shop is fortunate to shape the stories of several amazing restaurant brands, like Chili's, Fish City Grill, On the Border, Raising Cane's and Main Event.
These brands would not exist if not for the incredible people working on the front lines of the restaurant industry, from cooks to bussers— people impacted by the COVID-19 pandemic, and whose jobs are at risk for the foreseeable future.
The Texas Restaurant Association estimates 1.4 million workers in our state are employed by the restaurant industry. In Dallas county alone, there are roughly 250,000 restaurant employees. With impending limitations on service at the county and state level, the TRA estimates upwards of 500,000 employees will lose their jobs in the coming weeks.
These are servers, cooks, bartenders, runners, bussers, hosts and managers. While we all love the food at our favorite restaurants, we also want to support the familiar faces who make the experience complete. Now it's our turn to serve them.
MindHandle has created the #TeamUp4TakeOut campaign to encourage North Texans to order takeout or delivery at least four times per week in an effort to keep restaurant doors open.
MindHandle's #TeamUp4TakeOut campaign encourages North Texans to frequent their favorite local restaurants, take picture of their takeout food or favorite employees and post to social media using the hashtag #TeamUp4TakeOut.
If we continue to patronize our favorite restaurants by ordering take-out or delivery at least 4 times per week, we can keep their doors open and make sure these incredible people can make ends meet until the restrictions are lifted.
"There are 49,666 eating and drinking establishments in the state of Texas that need our help now," says Eric Harris, CEO Of MindHandle. "We're using our storytelling talents to drive takeout traffic and help those North Texans who rely on tips to survive."
The agency's employees have already accepted the challenge, posting their pictures on MindHandle's Facebook, Twitter and Instagram pages.
The restaurant industry is one of the largest employers in our state, and in our country. Let's keep in strong during this national crisis by showing our patronage and compassion by simply ordering takeout or delivery a four times per week.