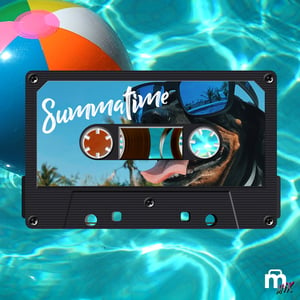 Press play on your summer vacation with MindHandle Mix, Vol. 14: Summatime, curated by our VP of Brand Management, Mike Stopper. These tracks are the perfect, upbeat soundtrack for flippin' burgers, cannonball contests, and catching fireflies in the backyard.
Check out our interview with Stopper for a behind-the-scenes look into why he chose these tracks for our advertising agency's newest playlist.
Stopper, how would you describe this mix?
It's a feel-good mix of sweltering summery tunes from the 1960s through today.
What inspired you to choose the theme?
The summer solstice happens Saturday, June 21 at 4:43 PM here in Dallas. For those that don't know, here's a mini-science lesson: the summer solstice is the longest day of the year in the Northern Hemisphere (and the shortest in the Southern Hemisphere). It marks the official start of summer as the sun reaches its apex while passing directly over the Tropic of Cancer.
Curating this playlist allowed me to start summer a little early. When you think about it, there are a ton of songs about summer and thinking about them brought up great memories of summers past.
What is your favorite song on this mix?
DJ Jazzy Jeff and the Fresh Prince's 1991 hit "Summertime". The song reached #3 on the Billboard Hot 100 charts and won a Grammy for Best Rap Performance by a Duo or Group.
If this mix was a brand, which brand would it be and why?
I'm thinking PacSun or maybe Ocean Pacific is you go old school. The mix is vibrant, youthful, coastal, and flip-floppy with a twist of California culture and lifestyle.
What's the secret to creating a great summer mix?
The songs should evoke visions of swimming pools, SPF 30, backyard cookouts, cold adult beverages, and temps that hit the century mark. A lot of the tunes have the word "Summer", "Heat", "Sun", or "Beach" right in the title. It's interesting how the songs span literally 60 years of music, but hang together perfectly.
Do any of the songs bring up a specific memory?
When I think about the best summers ever, I reminisce mostly about my high school days: a driver's license, cushy first job and limited responsibilities allowed me to soak up the sun, hang out late with friends and enjoy those endless summer nights.


Follow Mindhandle on Spotify and stay tuned for MindHandle Mixtape Vol. 15, available next Friday.