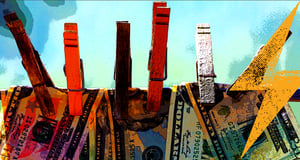 Funding for fine arts has been quietly disappearing in America for quite some time, but one Dallas advertising agency has decided to take action to ensure art lives on. Meet the MindHandle Scholarship Fund.
"The arts and the humanities belong to all the people of the United States." - President Lyndon B. Johnson
President Lyndon B. Johnson made progress for arts education by signing the National Foundation of the Arts and Humanities Act of 1965, But over the past two decades, funding for the arts seems to be in jeopardy every year, as budgets are reevaluated at the federal, state, and local levels.
In schools, the arts were hit especially hard during the economic collapse of 2008 – 2009, when 80% of school districts faced budget cuts. More recently, STEM and standardized testing have become the primary emphasis. Administrators and policy-makers became pressured to fund these initiatives without increasing taxes or annual budgets. So where does the money go?

There's a long history of arts education funding getting sidelined.

Reading, 'riting and 'rithamatic are undoubtedly untouchable. Thus, non-testing subjects like art, music and the performance arts—oftentimes seen as "electives"—become the first places for cuts.
The "elective" designation implies that the fine arts are somehow disposable. But a world without the arts seems unimaginable—especially if you work for an advertising agency.
But the sad reality is that 2/3 of public school teachers agree that "the arts are getting crowded out of the school day" according to a study from Americans for the Arts.
This is how arts education sets students up for success.
Ironically, a study by James S. Catterall from the UCLA Graduate School of Education and Information Studies found that regular participation in fine arts classes actually raises SAT scores by an average of 91 points and provides coordination between hemispheres of the brain.
2/3 of public school teachers agree that the arts are getting crowded out of the school day.
Catterall's research also found that low-income students with arts courses are more likely to attend and do well in college, obtain meaningful employment, volunteer in their communities and vote.
Art students can be reluctant to apply for college scholarships because their talents are not purely academic. They believe applications are evaluated on grades, not gifts. But the reality is less than 10% of private scholarships in the US are based exclusively on academic performance. In fact 30% of all scholarships are won by students with a B average, and another 8.1% of students have a B- average according to FastWeb.
But MindHandle felt there was still a void for college-bound Texans with an appreciation for art to have access to financial aid based purely on ideation and talent. So in December 2013, we did something about it.
Introducing the MindHandle Scholarship Fund.
The MindHandle Scholarship Fund is a registered 501(c)(3) nonprofit organized for charitable and educational purposes. It was created to financially assist qualified applicants in developing and fostering innovative ideas with the power to advance society.
The scholarship takes its name from MindHandle, our Dallas-based advertising agency that strengthens brands through magnetic storytelling. The nonprofit is aligned with the company's tagline "Ideas Take Hold", intended to promote the power of innovation.
The scholarship was developed to aid high school seniors through the funding of related educational pursuits from accredited academic institutions of higher learning.
Research has shown the arts help develop the "Four C's" critical to 21st century business leaders: critical thinking, creativity, communication, and collaboration.
Texas high school seniors are eligible to compete for The MindHandle Scholarship, which awards financial aid to be used towards direct costs (tuition, room, board) and indirect costs (personal expenses, books and transportation) for higher education.
The MindHandle Scholarship recipient is selected based on the development and presentation of an original and potentially transcendent idea or concept regardless of application or area of interest.
It is the intent of the MindHandle Scholarship Fund to actively raise funds through donations from individuals, organizations, and even our clients to expand the ability to fund more scholarships to Texas high schoolers over time.
And the award goes to...
Our most recent recipient was Taylor Kramer of Katy, Texas. She graduated from Cinco Ranch High School outside Houston and now is attending the University of Arkansas.
As we head into the next academic year, follow MindHandle on Facebook, Twitter, Instagram or LinkedIn to learn about the next application period for the MindHandle Scholarship Fund.