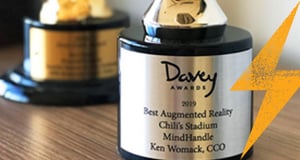 A New Year and new office decor. MindHandle was recently named "Best Augmented Reality" at the 15th Annual Davey Awards. The creative was done in collaboration with Element X and Post Asylum on behalf of Chili's Global Brand Development in Mexico, the Middle East and Asia.
Futbol Americano is the world's most popular game. In fact, with 4 billion followers worldwide, it is estimated that more than half of the global population consider themselves fans. "Chili's Stadium" was awarded top honors in Experiential and Immersive Augmented Reality at the recent Davey Awards. The app was the world's first-ever, iOS-Android cross platform, multi-player, augmented reality app with 1-on-1 competitive play.
"At every Chili's around the world, we are committed to providing not only flavorful food and drinks, but also a place where our guests can have a memorable and fun experience," said Alejandra Gonzalez, Global Marketing Manager. "Using cutting edge technology to create an app that is exciting and exclusive to our restaurants helps build loyalty with our guests and keeps them coming back."

The Davey Awards is the largest and most prestigious awards competition exclusively for the "Davids" of creativity – the smaller agencies and companies of the world.
David defeated the giant Goliath with a big idea and a little rock - the sort of thing small firms do each year. The annual International Davey Awards honors the achievements of the "Creative Davids" who derive their strength from big ideas, rather than stratospheric budgets.
Started in 2005, the Davey Awards honors the best work produced for the Web, Design, Video, Advertising, Mobile, Social, Branded, and Immersive & Experiential Marketing.