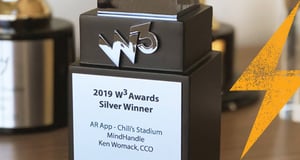 MindHandle struck silver for "Best Augmented Reality" at the 14th Annual W³ Awards. The award-winning work was done on behalf of Chili's Global Brand Development in conjunction with Element X and Post Asylum.
Whether it's the World Cup, Olympics, CONCACAF or League Championships, soccer is always in season—it's the world's most popular sport. "Chili's Stadium" was the world's first-ever, iOS-Android cross platform, multi-player, augmented reality app with 1-on-1 competitive soccer play. The app was featured at 1600 Chili's locations in 334 countries around the world, and was awarded top honors in Mobile Apps/Augmented Reality at the recent W³ Awards.

The W³ is the first major web competition accessible to the biggest agencies, the smallest firms, and everyone in between. It is sanctioned and judged by the Academy of Interactive and Visual Arts, an invitation-only body consisting of top-tier professionals from a "Who's Who" of acclaimed media, interactive, advertising, and marketing firms.


Started in 2006, The W³ Awards celebrates digital excellence by honoring outstanding Websites, Web Marketing, Video, Mobile Sites/Apps & Social content created by some of the best interactive agencies, designers, and creators worldwide.
Check out more of our award-winning work here.