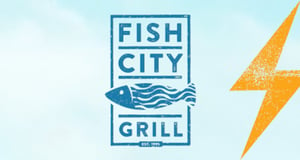 When Bill & Lovett Bayne opened their first restaurant, they wanted to create a comfortable place for neighbors to enjoy great seafood at affordable prices. Now, after twenty-five years of growth, Fish City Grill is launching a new logo as part of a rebranding campaign designed to reflect the evolution of the restaurant.
MindHandle's recent rebranding of Fish City Grill was featured in the recent issue of Food & Beverage Magazine. For over 20 years, F&B Magazine has become the first name in B2B Food service and Hospitality and is ranked by Alexa as the most trafficked website in the industry. The magazine has nearly 500,000 subscribers and 11.6M visits to the website each month.
Fish City Grill's new design and aesthetic changes will be revealed when their newest San Antonio location opens this spring. Meanwhile at all current locations, Customers will first see the new logo on uniforms and menus, and eventually carried out into every aspect of the dining experience throughout 2020.
The branding was designed with the Fish City Grill customer in mind. As the company has grown to 20 restaurants, the Customer base, too, has also evolved. The stylized fish and cooler blue color palette was selected to appeal to today's broader dining demographics without confusing their current customers. It was also chosen to reflect the company's core values: respect, inclusiveness, and integrity, and its culture of creating an awesome place for team members and customers.
"We have been blessed with 10 consecutive years of positive same store sales growth. And we want that trend to continue, so we have taken a proactive stance to keep our concept current and relevant. We believe the look and feel will be welcoming to a broader crowd while not alienating any of our current customers. We want to steer towards a look that feels coastal without being beachy," noted Fish City Grill co-founder Bill Bayne. "It was important that this look organically showcase our commitment to freshly prepared seafood, and our scratch recipes in a way that speaks to all of our customers."
"Fish City Grill has such passionate and loyal customers and employees," said Ken Womack, Chief Creative Officer at MindHandle. "The 25th anniversary of this beloved neighborhood seafood joint was the perfect time to introduce a cooler, coastal feel."
See the full story in Food & Beverage Magazine, click here.