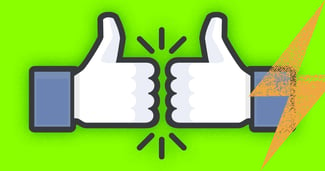 In the most recent summertime report from The Harris Poll, 51% of Americans claim to be using social media more since the COVID-19 outbreak began. That percentage increases even more within specific age groups: 60% of respondents aged 18 to 34 and 64% of respondents aged 35 to 49 claim they have increased their screen time with social platforms.
Whether they're driven by shelter in place, remote learning, election coverage, working from home, or needing a break from an abnormal year, Americans are turning to social media more in 2020. But the question is… is your brand taking advantage of this opportunity?
Perhaps COVID-19 has prevented your biggest brand fans from visiting your location or even purchasing your product. Social media is the perfect platform to keep people engaged with your brand from a distance… and we're talking more than a socially acceptable six feet. But are you doing it the right way? Or at all?
The most recent stats from Pew Research show 69% usage among US adults on Facebook and 37% on Instagram, making them the country's #1 and #3 social platforms. So spruce up your social with these four tips to help enhance your social presence during the pandemic.
"A lot of people use social media to share mundane things or for self-glorification. I try to use it to share interesting things with people." - Ashton Kutcher
Consider Your Content
Brands oftentimes use social media to force their sales messages on fans, but who wants to be friends with someone who only talks about themselves? Think: What do you and your fans have in common? The trick is to talk to fans like friends, not targets or customers, and to expand your content.
One of our social clients is Benchmark Bank. On their social media accounts, we talk about finance, business, and currency, of course. But we also talk about families, home improvement, gardening, music, food, places of interest in Texas, and the good ol' U.S. of A. Push yourself to create content that is interesting to your followers. Do some research, and show followers you spent time crafting the post. Make them laugh or teach them something new. Diversified content spurs engagement, so try different types of posts to get a feel for what your followers react to… or don't.
Post Prolifically
One of the biggest questions marketers have regarding social media: "How frequently should I post?" According to HubSpot's Not Another State of Marketing Report (2020), out of 3,400 marketers surveyed, the majority post between 1 - 6 times per week. While that is what the majority does – is it right? What's the bullseye number?
Tricky question, and it depends on your industry and the social platform you're using. Facebook rewards fresh and consistent content. On the flipside, its algorithm can punish posts, and even brands, that don't get a lot of engagement. Posting more than once a day can cannibalize both your posts and earn a diminishing ROI. The goal for most brands is to post 5 – 7 times per week on both Facebook and Instagram. This allows you to maintain a consistent conversation with your followers and optimize the number of eyeballs that see each post.
Beef Up Boosting
Social media became a part of mainstream culture by 2005, as YouTube arrived on the scene, and Facebook and Twitter became available to users around the word. Fifteen years later, many C-suite executives still see social media as free advertising.
As of late 2019, the average reach for Facebook posts was just 5.5% of their page's followers. Big brands with massive follower counts saw even lower averages. So don't be fooled – social media is a paid media. Boosting Facebook posts is necessary if you want fans to actually see your content. So where do you start?
MindHandle's approach is to boost each and every post with an even spend. It's the only way to have an apples-to-apples comparison of engagement metrics. Set the target to be "people who like your page and their friends" so you focus on your current followers. And set the duration to "1 day" to ensure the boost is served and spent before your next post deploys. The amount of money you budget for boosting can vary as well. If you are on a limited budget or are new to boosting, start with $10 or $20 for each post to substantially increase your reach over organic posts.
Know Thy Numbers
How often do you look at your competitors' social channels? How many fans do they have? More importantly, does their engagement percentage stack up to yours? With all your posts boosted evenly, you can see what posts performed the best and which ones did not resonate. The numbers don't lie.
Your post's engagement rate is the number of comments, shares, clicks and likes as a percent of those it reached, and to MindHandle, it's the most important metric. An engagement rate above 1% is good, 0.5% to 0.99% is average, and anything below 0.5% needs improvement. But a good Facebook engagement rate is a highly subjective metric that can vary significantly from page to page and even between posts on the same page. So monitor your engagement monthly, and then begin to set your own benchmark for post performance.
Your brand has an opportunity to lean into social media and connect with fans like never before. These unprecedented times have increased consumer consumption of social media, and given you an opportunity deepen your relationship with them. So remember: plan, spend, monitor, and try.