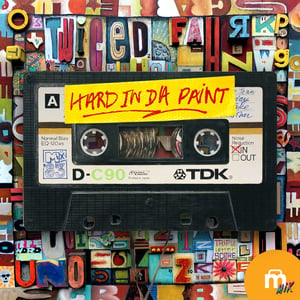 If you've been to our office, you likely found yourself marveling at 'Mix '83', a four-foot-long sculpture of an old-school cassette tape, created by our multi-talented CCO, Ken Womack. In fact, his artwork inspired the creation of our agency mixtapes. And – as if you needed any more proof that the guy loves the combination of great music and art – his debut mix, MindHandle Mix Vol. 11: Hard In Da Paint, includes the very songs he listens to while he paints.
It's pretty meta: music inspired his painting, his painting inspired this music, and this music inspires more painting. Yeah, our brains hurt, too. But boy are we motivated to create great work, listening to this killer, upbeat and eclectic mix.
Here's our interview with the master mixtape artist himself:
Ken, how would you describe this mix?
The energy. Whether art or music, I value surrounding myself with things I love that put me in a positive frame of mind. Because painting and sculpting are intellectual pursuits, I am thinking and problem solving constantly while working, so I am not really listening to lyrics most of the time. But I have history outside of art with all of this music, so I know its lyrical content, and that brings me comfort.
Side note: I also listen to ambient music - just tones and stuff – and music from my meditation app (Calm), but that's not great material for a mixtape.
What inspired you to choose the theme?
Bits. This mixtape was named after a song by Waka Flaka Flame (even though he didn't make the cut for the mixtape.)
What are your favorite songs on this mix?
"Finer Feelings"
I love this song for its parts: the beat, the hook, the raw energy. It's great garage band rock and roll. It's about finding love, the age-old human desire. There is no real-life connection for me, just a visceral love for the song.
"Take Five"
A timeless classic. I love its place in music lore, its catchy melody, and Paul Desmond's sax. He once remarked that he wanted to sound like a dry martini – and it really does in this song.
The time signature changes are what make Time Out the landmark album it is. Nobody did that before Dave Brubeck. That was the start of "hip" things in music, and inspired Miles Davis and the 1959 album Kind of Blue. Without Brubeck, we may never have George Russell's innovative Lydian Chromatic Concept of Tonal Organization—which gave musicians the freedom to stray from the base melody and gave way to free, expressive play.
"New Frontier"
This song is from Donald Fagen's first solo album (vocalist of the band Steely Dan), released in the mid 80s. This song is about two young lovers hiding in a fallout shelter during the Cold War. They're naively more concerned with romance than a Soviet attack.
It captures the mood of the era perfectly: there are references to Dave Brubeck, a 1950's perfume called Ambush (perfect name for a perfume), and French tweed (think Jackie Kennedy). It's evocative of a hopeful, idyllic time in American history. It was before my time but reminds me of the photos in my parents' yearbooks.
If this mix was a brand, which brand would it be and why?
Trail mix, cuz it's got errrthing in it and it's so tasty.
What's the secret to creating a great painting mixtape?
Balance. Some jazz, some rap, some indie, some rock, some soul, some Texas blue grass, also a mix of old and new. I like different types of music, from all eras, and this playlist reflects that.
I also wanted to share some songs by lesser-known music artists, like Jolie Holland (great soloist from Texas, and part of The Be Good Tanyas), and Juicyproof, a band from Munich with a soulful Indian lead singer that sounds like the vocally reincarnated love child of Joe Cocker and Gregg Allman.
Do any of the songs bring up a specific memory?
The songs are mostly tied to eras in my life, rather than specific memories. "New Slang" from The Shins reminds me of my kids. "Doin' Time" reminds me of my girlfriend, Kim. She loves Lana Del Rey, and I love the Sublime original song as well as the LDR cover version, so that particular selection blends two special connections together.
Dave Brubeck reminds me of John Hale, one of my best friends growing up, and best man in my wedding. John introduced me to jazz. When we were right out of college, we used to listen to Time Out and drink and chill. Good times.
Thank you, Ken, for giving us this jolt of creativity (and a heck of a lot more, every day at MindHandle!)
Follow Mindhandle on Spotify and rock on with MindHandle Mix Vol. 12: Isolation Liberation, debuting next Friday.