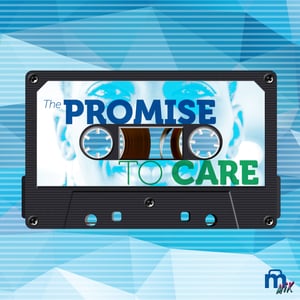 Last week, MindHandle racked up not one, two, or three, but FOUR awards at the American Marketing Association's Marketer of the Year Awards. That includes the top honor as overall Marketer of the Year! We're celebrating this week, and you can, too, by listening to MindHandle Mix 18: Promise to Care, a playlist inspired by the award-winning magnetic storytelling we crafted for Texas Health Resources.
Take a peek at our award-winning internal marketing campaign for Texas Health Resources, The Way Forward Is You, and press play on MindHandle Mix 18: Promise to Care. You'll notice some common themes throughout. Namely: trailblazing, unwavering enthusiasm, and dedication.
RX for MindHandle Mix 18: Promise to Care
This is a 31 SONG playlist with UPLIFTING tracks by beloved ROCK, POP, and ACOUSTIC music artists from the 20TH and 21ST CENTURIES.
Listen as directed.
May cause dancing, singing, and a positive attitude. Do not drive a vehicle or operate heavy machinery while dancing.
Call your doctor if you experience an uncontrollable urge to make healthy decisions and lead your best life. You may be experiencing a rare but serious condition called self-actualization, which can lead to irreversible personal growth.
WARNING! Combining this mix with the company of your loved ones may result in the following: warm and fuzzy feelings, hugs, other mushy stuff.
Remember: MindHandle prescribed you this mix because they believe the benefits outweigh the risks.
Contact your doctor if you have a smile that lasts over 24 hours.
Unlimited refills.
This has been a heck of a year for workers in the health care industry. We're honored to use our creative and strategic talents to empower the people caring for the health and wellbeing of our community. Thanks for all you do, Texas Health Resources!
If you liked this mix, just you wait for MindHandle Mix Vol. 19, debuting soon.