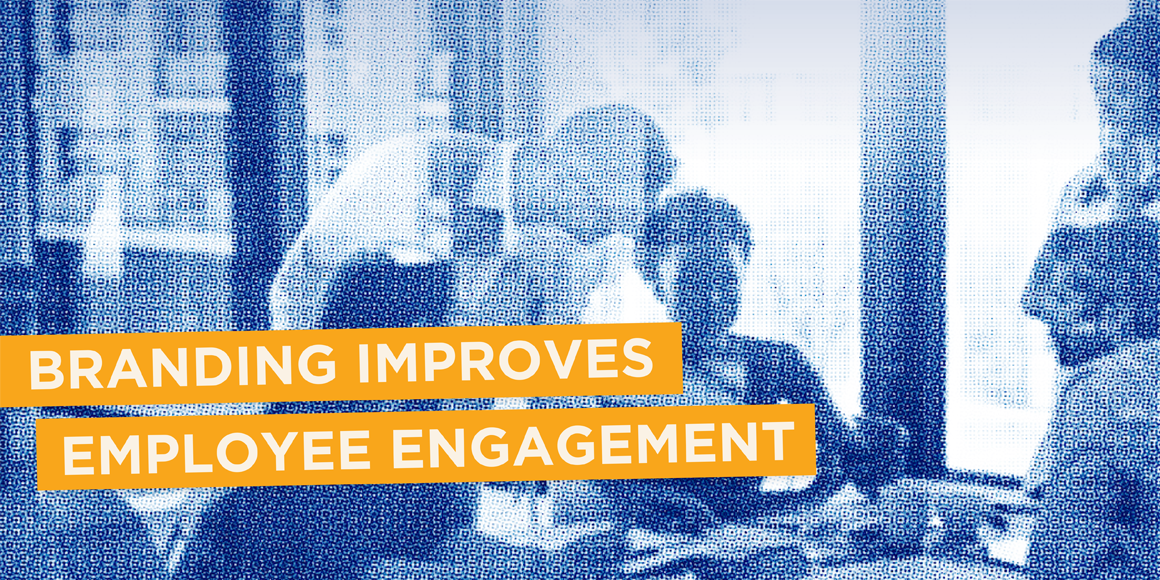 While employment branding plays a critical role in attracting new talent to your workforce, it can also have an incredible impact on employee engagement. Branding not only aligns employees with your vision, mission, and values, but it also contributes to a culture your employees can be proud to promote and share with others.
The Connection Between Branding and Employee Engagement
The benefits of employee engagement are numerous. According to Gallup research, high employee engagement enables organizations to achieve lower turnover and absenteeism. It also causes stronger financial performance, including as much as a 23 percent increase in profitability. But to improve engagement you must improve the quality of communications.
Enter branding. It enables HR and internal comms teams make the leap from informative and sometimes overly transactional employee communications to messaging that truly inspires employees and motivates them to give their all at work. In a study referenced in the Harvard Business Review, researchers identified several actions that boost engagement. Many tied back to the central goal of branding: leveraging communication so employees build connection and commitment to the organization.
With an employer brand that achieves the ultimate goal of changing hearts and minds, you can enable employees to develop stronger emotional ties to their work and to the organization. When this happens, employees see the organization as a great place to work and want to share that sentiment with the people in their network.
3 Ways to Boost Employee Engagement with Branding
Considering as many as two-thirds of your workforce may be unengaged, you'll need effective employee engagement strategies to create lasting improvement. The same internal comms that seemed effective in the past may come across as dull and uninspiring to employees now. Instead, you'll need a fresh take on employer branding that sparks an emotional response in employees. What other brands do with Super Bowl commercials and viral Instagram Reels, your organization can do with employer branding and smart, engaging communications.
Here are three ways to make it happen:
1. Involve employees in branding efforts.
Existing employees can be your organization's biggest culture champions. They can promote your brand in several ways, including:
Acting as ambassadors on LinkedIn.
Participating in "day-in-the-life" branding videos.
Giving testimonials.
Representing your organization at career fairs and networking events.
Employees can also interact with other company social media pages by commenting, liking, and sharing company brand content. This activity will magnify your brand so others see why your employees are fulfilled there.
2. Pay attention to company reviews and ratings.
How a company interacts with reviews on sites such as LinkedIn can influence employees similarly to candidates. When you demonstrate your organization cares about employee feedback enough to respond and take corrective action, you send a positive message about your commitment to improving the employee experience. As you demonstrate commitment to your employees, they mirror that commitment—and engagement grows.
Another reason to stay aware of reviews and ratings is they can be a strong barometer for engagement among your existing employees. If employees are highly engaged it's likely to show up in the reviews and comments. A Culture Amp study revealed that positive Glassdoor ratings were correlated with higher employee engagement.
3. Highlight real employee experiences in your branding content.
Publishing videos, photos, and written content that describes actual employee experiences tell everyone—customers, current employees, and other stakeholders—what your organization stands for. Ultimately, it helps to keep employees aligned with those values. A great example of how employee storytelling helps to boost engagement is our recent work with Frost Bank. By showcasing employee brand champions and streamlining Frost's internal communications, we refined the company's brand story and improve its employee and consumer engagement.
Stir Emotion and Engagement in Your Employees
Employment branding is a reputation-boosting strategy that does so much more than help your organization attract talent. It can also transform employee connections with your organization, helping them become more excited and proud to work there than ever before.

Want to build an employer brand so employees build a deep emotional connection to your organization, values, and culture?
Contact us to start the conversation.