Supply chain issues. COVID-19. The Great Resignation. Quiet Quitting. According to conventional logic, the U.S. labor market is past-due for some relief. Unfortunately, that doesn't seem to be the case. Last month, U.S. worker productivity levels reached at an all-time low. Shortly thereafter, it was announced that over 70% of economists believe that we'll be in a recession by mid-2023—if we're not already in one.
But what does this mean for employers? How do we connect with our current, and potential, workforce while maintaining our competitive edge?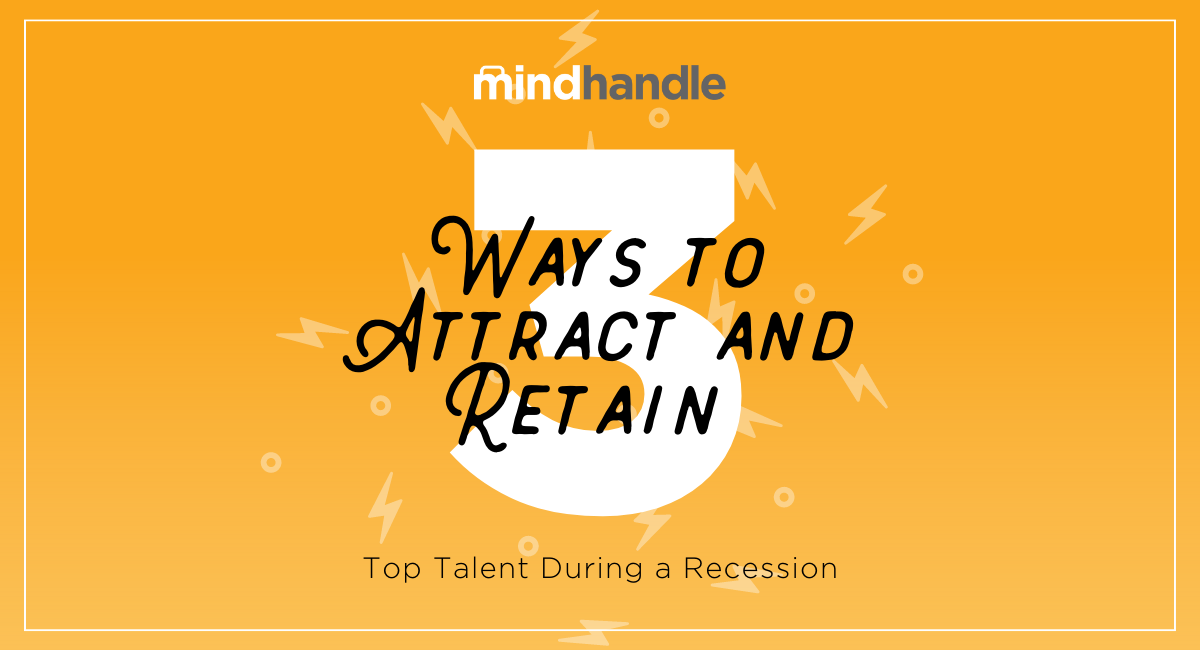 At MindHandle, we believe that answer to all these questions can be found by elevating your employment brand—your reputation as an employer, within the workforce—especially, during a crisis. Here's how:
1. Transparent Communication is 🔑
In a world where corporate, buzzword salads have become an unending joke amongst anyone who's ever worked a desk job, being real can go a long way. Consider this: If you're being bombarded with constant warnings of a recession, isn't it safe to assume your employees are seeing them, as well? So, rather than hide from the "bad" news, try the upfront, proactive method!
According to Robert Half, a top human resource consulting agency, two of the top reasons for the Great Resignation are:
(1) Lack of recognition; and
(2) Concerns about the company's direction or financial health
The solution? Create an internal communications strategy for proactively communicating with your employees. As we mentioned in an earlier article, now, more than ever, company culture is an organization's competitive advantage–and when your team feels valued, while simultaneously believing in your company values, they become brand champions. More than that though, a solid communications plan saves time, generates consistency in messaging, and creates measurable engagement results to better understand what's important to your employees.
Remember: Your employees want to know what's going on with your business–they want to know about the good, the bad, and the ugly. They want to be prepared, just like you–just like your business. And this simple, no-frills approach to addressing less-than-desirable news will show them that they are seen, heard, and most importantly, respected, by their employer.

2. Employee Engagement and Experience
In 2019, just before the pandemic really took hold in the U.S., Oxford University published a study that revealed employees are 13% more productive when they're happy in the workplace. Since then, we've experienced (and are still experiencing) something of a mass exodus of unhappy employees a.k.a. the Great Resignation. And with a potential recession on the horizon, business leaders are faced with an important decision: Either understand the motivations behind these resignations and make the changes necessary to continue to retain and attract top talent or risk losing key employees to those competitors willing to evolve.
But why are employees fed up with their jobs? To answer that, you'll need to ask your teams. Surveying your teams to gain genuine, honest feedback is one of the best ways for your organization to get a much-needed pulse check, while also gaining insight on some of the pain points employees face on a day-today basis.
Looking to outside research can also be incredibly helpful. For example, according to a survey conducted by the Pew Research Center, most workers who quit their jobs in 2021 cited many reasons for their departures, however, the top three reasons were:
(1) Low pay
(2) Little-to-no opportunities for advancement; and
(3) Feeling disrespected
Operating on that information, leaders can work with their Human Resources teams to better understand what (if any) programs for employee mentorship, training, advancement, and recognition are currently available. You can also work with your HR and recruiting departments to better understand the current labor market and where your company lands on the compensation front , when compared to your competitors.


After all, it's 2022, and we are well beyond the celebratory pizza party. Investing in, and communicating about, the creation, or revitalization, of these programs shows your employees that your organization is committed to their future and are willing to back up that sentiment with these kinds of offerings.

3. Company Culture
Company culture has become one of the biggest factors in attracting and retaining top talent. And when considering the number of workers who have voluntarily left their jobs due to workplace/culture-related reasons, it could be time to reassess your company's culture and make a few adjustments.
At the end of 2021, Forbes published an article that identified five emerging trends in hiring–all of which are related to company culture:
• Flexible work
• Employee recognition
• Connection to the workplace
• Employee development; and
• Well-integrated technology
So, what does this mean? Well, quite honestly, it means people actually want to live the dream! Most people want to love the work they do–and when you consider that the average person spends one-third of their life (roughly 90,000 hours), it just makes sense.

One way to do this is to reevaluate the way your business celebrates and recognizes your workforce. Unfortunately, according to this Quantum Workplace report, employee recognition is trending downwards–meaning employees aren't convinced that their hard work will lead to rewards, or even recognition. By creating recognition programs that can identify and reward employees worthy of celebration (for achievements, living the core values, tenure, etc.), your business will not only build upon its existing culture, but also give your teams more opportunities to grow their own , professional brand.

Connection to the workplace (and each other) is another top priority for both current and future employees alike. Last year, an ADP Research Institute study revealed that employees who feel a strong connection to their employers' mission, goals and values are 75 times more likely to feel engaged at work than those who do not. Meaning that leaders who embrace an employee-centric mindset, and who develop more programs centered around the individual worker (i.e. diversity, equity, and inclusion initiatives, skills workshops and career advancement), present a much more appealing work environment for current and future employees.
Recessions are never easy. But when businesses choose to invest in their employees, higher productivity, increased revenue, and a happier workforce are inevitable. That's why we do what we do. At MindHandle, we take pride in our ability to recognize and address the unique, employment branding challenges facing our clients today.
Interested in learning more about how employment branding can help you recruit, retain, and engage employees? Watch Eric Harris, CEO of MindHandle, speak here.