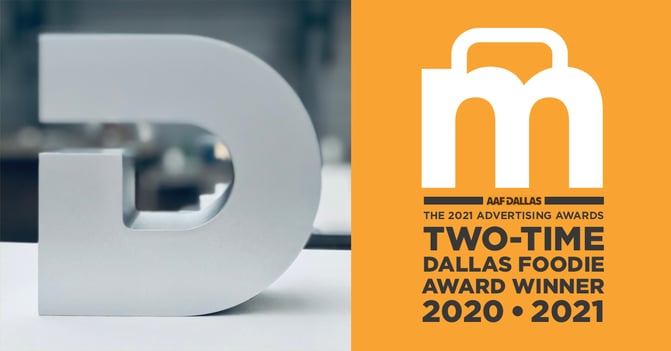 Earlier this month, MindHandle took home four new awards at the "Safest ADDYs Ever" 2021 American Advertising Awards, hosted by AAF Dallas. The most recent additions to our trophy collection: two Silver ADDYs in the Social category, one Bronze ADDY in the POP category, and the Dallas Foodie Award for Best Restaurant/Food Advertising.
Feeling déjà vu? It's not just you. Last year, our agency won four ADDY awards as well, including the Dallas Foodie Award, which has only existed for two years.
Astoundingly, all of the awards we scooped up were for one campaign we created for Fish City Grill titled "It's Not Political, But It's a Party Alright". You're probably wondering… how on earth did a campaign for a regional seafood chain net FOUR ADDYs during an unprecedentedly terrible year for the restaurant industry?
"We desperately needed a good laugh. No politician could deliver that. But a plate of fish and chips… that's gold." – Ken Womack, MindHandle Chief Creative Officer
You lived through 2020, so you probably don't need to be reminded: it was a dumpster fire. The pandemic crashed onto our shores and swept away our economy, our already overburdened healthcare system, our sanity. Presidential election years are always fraught with tension, but this one… was a livewire of anxiety.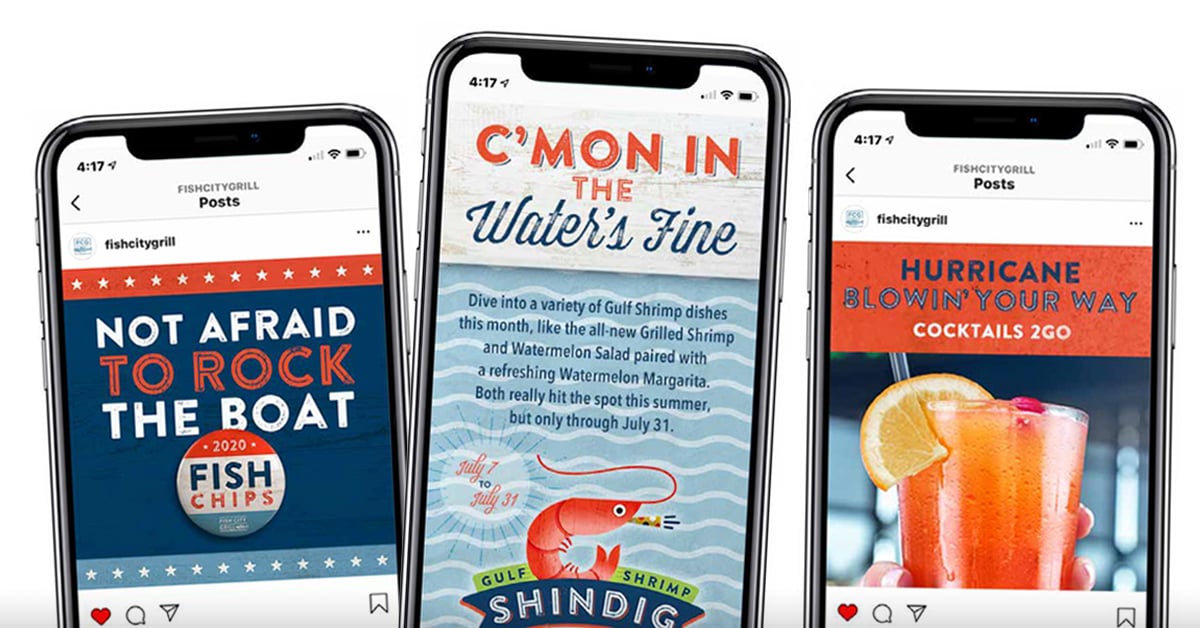 Despite the surrounding turmoil – or perhaps because of it – maintaining a sense of humor was necessary for brands to survive. But levity can be tricky in moments of unrest. Brands had a tight rope to walk in 2020. Silence can kill your following, and yet, in today's cancel culture, you're risking your reputation if you offend your intended audience.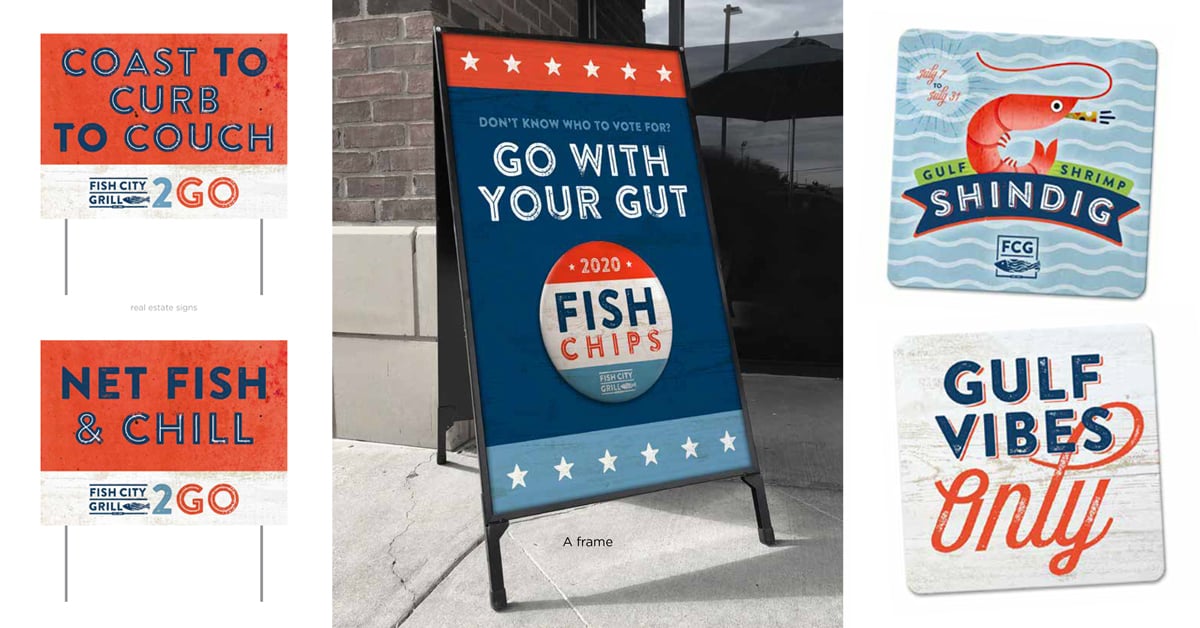 We helped Fish City Grill rebrand their restaurants in 2019. As such, we're more than a little familiar with their "famillenial" target market and their hero's journey. This demographic, made up primarily of young parents, loves Fish City Grill because they associate it with a coastal getaway. Fish City Grill is a vacation from everyday stressors – and therefore, was the right brand to crack an irreverent joke.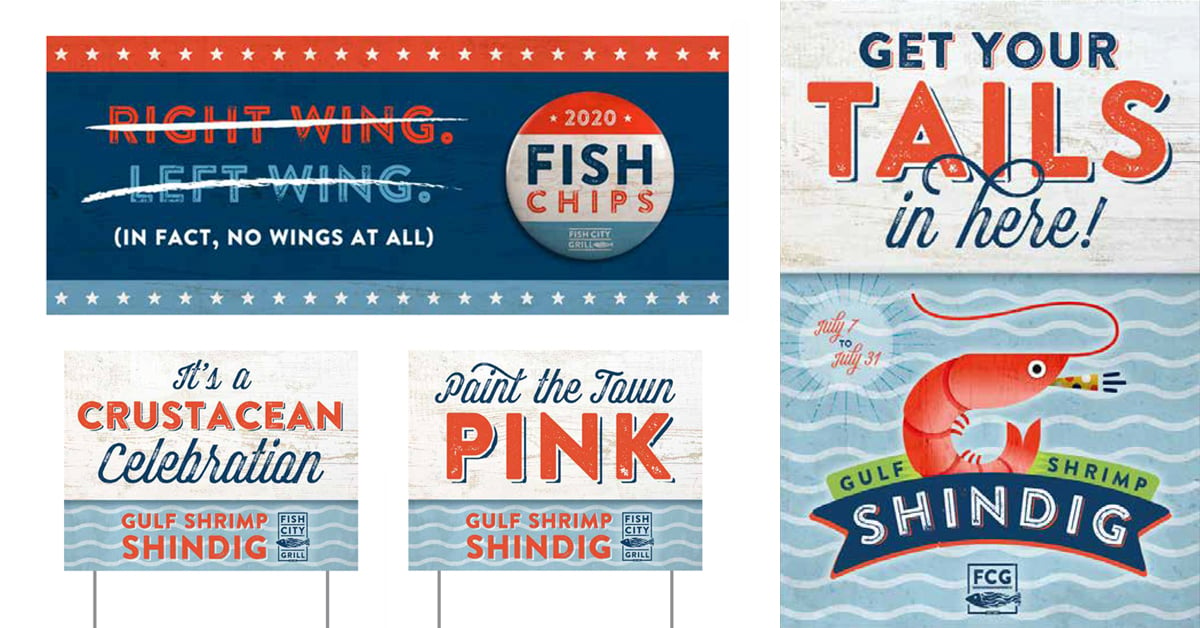 "To create a magnetic story, you must be willing to take risks," says Ken Womack, Chief Creative Officer of MindHandle. "At the time when we created this campaign, all this bad, divisive energy was in the air. We knew our famillennial audience would welcome the comic relief of this campaign. Humor has the power to deescalate, to unite. I'm honored that our audience embraced this campaign, and that we've been recognized by our peers at AAF."
"To create a magnetic story, you have to be willing to take risks." – Ken Womack, MindHandle Chief Creative Officer
The AAF Dallas was founded in 1908. It's the local chapter of the American Advertising Federation, which includes over 40,000 professionals nationwide in the advertising industry. Our work will now move on to two more rounds of competition, on the district and national levels. We'll keep you posted on how "It's Not Political, But It's a Party Alright" progresses.
We don't talk politics at work. But I think it's safe to say, our vote's with Fish and Chips.
Ready to craft a magnetic story for your brand? Let's talk.